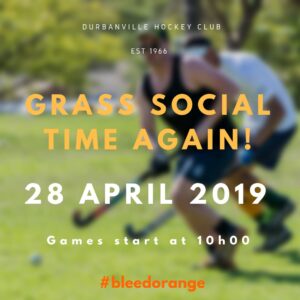 Durbanville Hockey Club will once again host social grass league for the 2019 season which is open to all. Matches will take place one Sunday a month over the coming season and we would like to invite all clubs to enter a team or two into the mix.
Put these dates in your diary:
– Sunday 28 April
– Sunday 5 May
– Sunday
– Sunday
– Sunday
– Sunday
Pre-Register here:
Registration will also take place on the day from 09h00 with games starting at 10h00 and ending at 14h00.
Cost is R140 per team with 50% of the entry fee going into the prize pot at the end of the tournament. Points will be allocated for best dressed, best spirit etc.
Invitation is open to all, experienced or not, young or old. Teams are allowed to consist of 7 players (of which two need to be ladies), 5 on the field(of which two need to be ladies) and 2 subs.