2021 details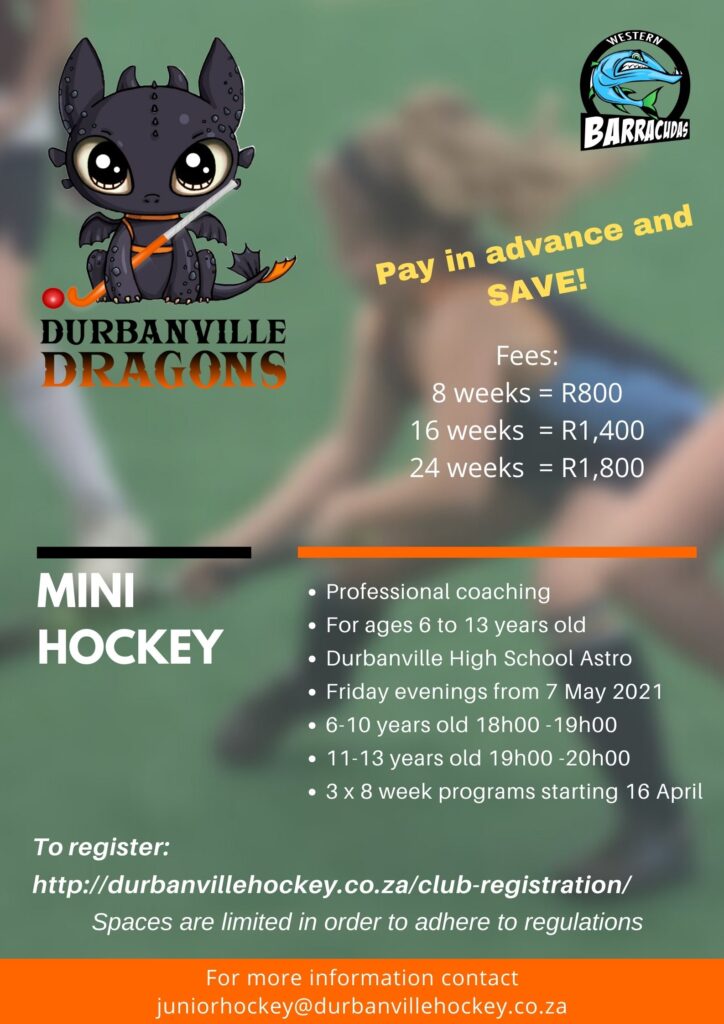 For all boys & girls between the ages of 6-13 years.
Friday evenings at Durbanville High School Astro
PLEASE COULD ALL PLAYERS REPORT TO THE REGISTRATION TABLE UPON ARRIVAL.
The first training session for 2021 will take place on 7th of May 2021.
To sign up for our weekly newsletter please send your details to newsletter@durbanvillehockey.co.za
For more information on Durbanville Dragons please contact Darrent Lentz:  juniorhockey@durbanvillehockey.co.za
Private coaching is also available.
Under 6 to 10 – Every Friday 18h00 – 19h00
Age 11 to 13 – Every Friday 19h00 – 20h00
Registration starts 20-30 minutes prior to the session starting
Fees:
Mini hockey is divided into three mini seasons of 8 lessons each.
Fees are as follows:
8 weeks = R800-00 (if paid in advance)
16 weeks = R1,400-00 (if paid in advance)
24 weeks = R1,800-00 (if paid in advance)
• Please note adhoc lessons will be charged at R120-00 each and this is payable upfront prior to the lesson starting.
BANK DETAILS:
Durbanville Hockey Club
Bank: Standard Bank
Branch: Tyger Manor Branch
Code: 050410
Account Number: 072 003 561
Type: Cheque/current account
Reference: MH-Member-Name 2019
REGRETTABLY NO CREDIT CARD PAYMENTS CAN BE ACCEPTED. EFT AND SNAPSCAN ONLY PLEASE!
REMEMBER TO BRING:
• Hockey stick, shin pads & hockey boots.
• We will provide hockey balls and beacons for each practice session.
• In the event of rain – coaching and activities will continue.
Please take note that we accept new members throughout the year. This means that it will never be too late to join Durbanville Hockey club!
Why should your child play Mini-Hockey?
Children develop their social and mental skills, physical strength, and character while learning how to play field hockey. Teamwork and active participation are key components. The game teaches great hand-eye coordination, team play, sportsmanship and will keep your child in shape. The game requires running and stamina, but can be taught to anyone. Every child plays as there are no trials or team selections.
By providing a well-structured and organized DURBANVILLE DRAGONS program, in addition to providing numerous children with the opportunity to learn and participate in an Olympic sport being played in over one hundred countries around the world, children develop:
1. Physical motor skills.
2. An enthusiastic attitude towards participation in sport.
3. An appreciation of the need for teamwork (support and cooperation).
4. A higher level of physical fitness.
5. A sense of accomplishment through the progressive acquisition of skill.
6. Good behavioral patterns and the acceptance of rules and regulations.
We keep the groups small so that the players have many opportunities to touch the ball – approx. 12 players to 1 coach.